This committee heads an annual program designed to prepare selected applicants for positions of public service. Through classroom instruction and on-site training, participants in the Executive Leadership Roundtable program learn about the opportunities and challenges that face the region and are given behind-the-scenes information on key topics such as homeland security. They are also given the opportunity to interact with current political, community and business leaders, and each class selects a community service project.
At the end of the program, participants will have developed relationships with a variety of professionals and civic leaders. Designed for those in upper management, graduates of the Executive Leadership Roundtable program are often considered for a commission with the City and other appointments.
The 2020-2021 program will begin with the first session in January 2021 and end in August. Applications are due September 30, 2020. The committee reviews applications as received and will hold interviews in October and November.
Apply for the 2020-2021 program.
Applications due September 30, 2020.
This year, ELR participants have chosen to coordinate the expansion of services provided to our active military by upgrading the kitchen facility, Wi-Fi, and office space of the Bob Hope USO at March ARB Joint Regional Deployment Center. Click here to read a full article about this project. You can also view a PowerPoint by clicking the image to the right. If you'd like to donate toward this cause, please click here.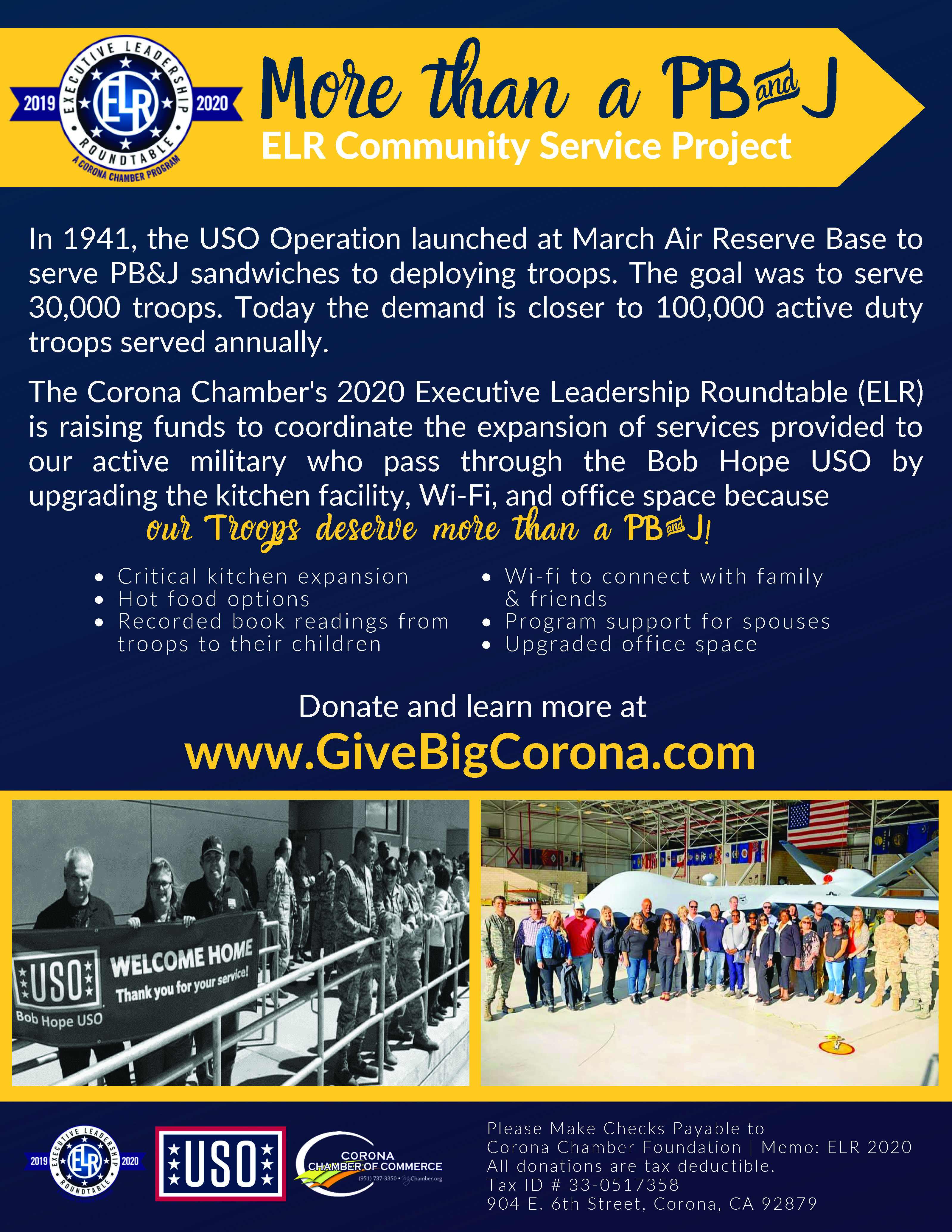 2019-2020 Participant Roster
Francene Alexander - Kaiser Permanente
Peace Aneke - Corona-Norco Unified School District
Kathy Armstrong - Do It American Manufacturing Company, LLC
Neha Arya - Futurelink Inc.
Palbinder Badesha - Express Employment Professionals
Travis Boan - Corona Fire Department
Wendell Bugtai - Riverside County Supervisors, District 2
Gabbi Cao - City of Corona, Recreation Services
Sondra Davis - Riverside Medical Clinic
Mark Edwards - Empire Energy Solutions
Brittany Ritzi Foust - Corona-Norco Unified School District
Rich Good - Corona-Norco Family YMCA
Natasha Johnson - Navy Federal Credit Union
Alistair Machoka - Corona Regional Medical Center
Tracie Moran - United Paving Co.
Jesse Ramirez - Curt Pringle & Associates
Deanne Reyes - Corona-Norco Unified School District
Fauzia Rizvi - S Cube Technologies
Lt. Adam Roulston - Corona Police Department
Joshua Smith - Altura Credit Union
Anne St.Germain - Level Advisors
Jan Steiner - Make Dust
Kaneesha Tarrant - Norco College
Leslie Trainor - Riverside County Economic Development Agency
Dan Walters - Vito's Italian Pizza
Denise Wolfe - Majestic Sign Studio
2018 ELR Graduate Luis Santos
2018 ELR Graduate Derek Gutierrez
2017 ELR Graduate Julie Moreno
2017 ELR Graduate Colleen Molko
2015 ELR Graduate Ja Marr Brown
2017 ELR Graduate Cindi Schmitz
2012 ELR Graduate Dean Seif
2014 ELR Graduate Dr. Monica Green
"The Executive Leadership Roundtable through the Corona Chamber of Commerce has been an awesome experience! The opportunity to learn about Corona's history and the opportunity to get behind the scenes VIP level exposure to companies, city operations, educational and military installations was truly an invaluable experience. I have made lifelong connections and friends and feel blessed to have participated in ELR 2018-2019. I highly recommend this program!!! - Kristina Stracke, Kaiser Permanente