This committee heads an annual program designed to prepare selected applicants for positions of public service. Through classroom instruction and on-site training, participants in the Executive Leadership Roundtable program learn about the opportunities and challenges that face the region and are given behind-the-scenes information on key topics such as homeland security. They are also given the opportunity to interact with current political, community and business leaders, and each class selects a community service project.
At the end of the program, participants will have developed relationships with a variety of professionals and civic leaders. Designed for those in upper management, graduates of the Executive Leadership Roundtable program are often considered for a commission with the City and other appointments.
The 2020-2021 program began in January 2021 and will conclude in August. Applications for the 2021-2022 program will be avalible later this year.
For further information please contact anthony@mychamber.org
Apply for the 2021-2022 program.
Applications are currently not avalible.
This year, ELR participants chose to provide foster youth with the awareness of what amazing contacts, development programs, trade schools and colleges they have right here at home. They organized a "Day of Hope" event that will be taking place on July 20th. Click here to read a full article about this project. If you'd like to donate toward this cause, please click here.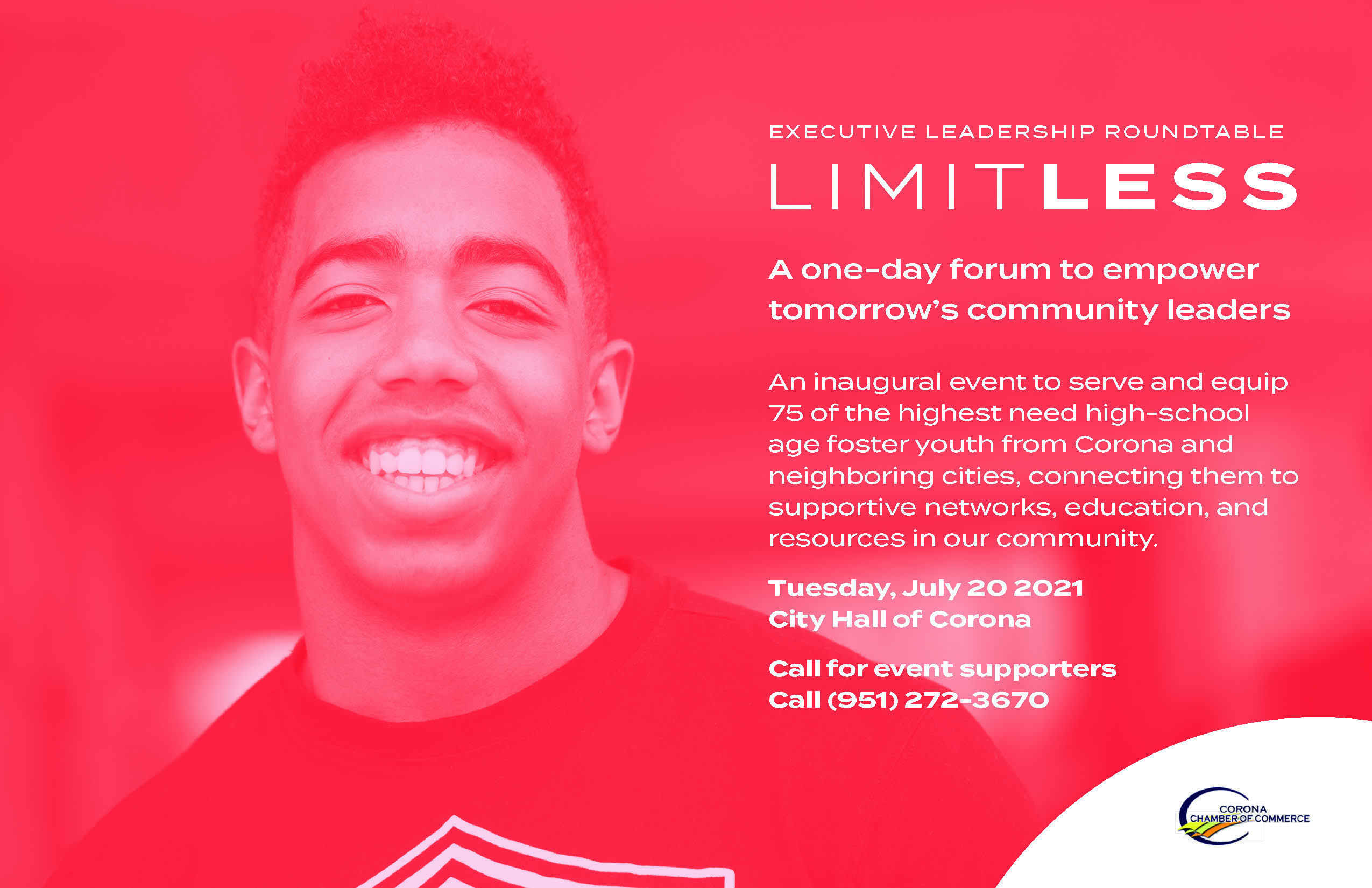 2020-2021 Participant Roster
Yousuf Bhaghani - Circle Cityy Investment Group
Chantal Blash - Meridian Pacific Insurances Inc.
Tina Covington -  Altura Credit Union
Audrie Echnoz - Corona-Norco Family YMCA
Carlos Flores - Corona-Norco Unified School District
Jessica Gonzales - City of Corona Management Services
Vickie Haner - Riverside Medical Clinic
Barry E. Knight - BEK Impact Corp
Marty Kurner - Hawden Group USA
Kathy Lee - Corona-Norco Unified School District
Melisa Lindros - Corona Life Services
Nick Lopez - NIR Plumbing, Inc.
Chad Miller - Industrus, Inc.
Eugene Montanez - Allegra Marketing - Print - Mail/ Image 360
Dan Moore - Titus Properties
Christina Nona - Elci Cabinets & Floors
KC Ollila - Bob Hope USO
Alia Rodriguez - Corona-Norco United Way
Thobi Rublaitus - CNUSD- Adult Education
Megan Samano - City of Corona - Police Department
Carlos Vasquez - Norco College
Jim Vigneau - Peppermint Ridge
2018 ELR Graduate Luis Santos
2018 ELR Graduate Derek Gutierrez
2017 ELR Graduate Julie Moreno
2017 ELR Graduate Colleen Molko
2015 ELR Graduate Ja Marr Brown
2017 ELR Graduate Cindi Schmitz
2012 ELR Graduate Dean Seif
2014 ELR Graduate Dr. Monica Green
"The Executive Leadership Roundtable through the Corona Chamber of Commerce has been an awesome experience! The opportunity to learn about Corona's history and the opportunity to get behind the scenes VIP level exposure to companies, city operations, educational and military installations was truly an invaluable experience. I have made lifelong connections and friends and feel blessed to have participated in ELR 2018-2019. I highly recommend this program!!! - Kristina Stracke, Kaiser Permanente