Representing the Interest of Business with Government
Promoting Political Action for a Favorable Business Climate
Our "watchdog," the Legislative Action Committee (LAC), is an invaluable resource to the Corona Chamber and its members. Composed completely of Chamber members, this volunteer committee's mission is to maintain a favorable business climate in Riverside County and the State. LAC discusses current issues and bills that affect business and make recommendations for Chamber members to then act upon. They assemble letter-writing campaigns, initiate discussions with legislators, and send representatives to speak on the floor during hearings in Sacramento. All funding for this advocacy program is provided by the proceeds of the prior year's Legislative Dinner/Monte Carlo fundraiser. Contact us for more info!
Membership in the Legislative Action Committee is selected to represent the business makeup of our service area.
Join us every Wednesday at 10am for our weekly Business Briefing meetings (via Zoom). Registration is FREE to members.
Click here to find our next meeting and to register.
To the right you can see just some of the legislation that the LAC has had a position on this year. We can also proudly say that we have successfully influenced the dramatic amendment of AB 570! AB 570's amendments now indicate dependent parents can only be added to individual policies, meaning the bill no longer has any impact on employer sponsored plans and premiums.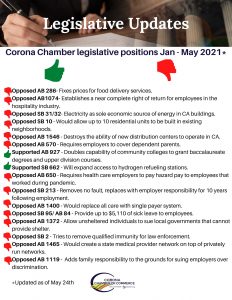 With just a "one click" form
you can tell Congress to
Support Businesses and Employees!
Started in 2017, the CORONA 2020 plan was enacted by the Corona Chamber in partnership with the City of Corona to focus on three key areas of development: Employment | Health Care | Infrastructure. Working together, the community of Corona can help attract career-building jobs, improve health care, and continue to improve our public spaces and infrastructure. Our strategy is to analyze opportunities for Corona to improve, bring leaders together to share their expertise, and create measurable progress towards goals. Click for more information on CORONA 2020.
Two legislative summits are scheduled each year: once to Sacramento (typically in early May/late June) and once to Washington, D.C. (typically in early Fall). Every attendee pays a registration fee and is responsible for all travel, lodging, meals, and expenses.
Although our 2020 trips were canceled, we regularly hold teleconferencing meetings with elected officials and representatives.
It's not too late to get involved! Click here to get more information.
2019 SUMMIT RECAPS
The 2019 Sacramento Legislative Summit was held May 21-23, 2019 (Click here for details).
The 2019 Washington DC Summit was held September 9-11, 2019 (Click here for details).
Stay tuned for information on our 2021 advocacy trips and a recap from 2020.
Legislative Action Committee Platform 2020