Representing the Interest of Business with Government
Promoting Political Action for a Favorable Business Climate
Our "watchdog," the Legislative Action Committee (LAC), is an invaluable resource to the Corona Chamber and its members. Composed completely of Chamber members, this volunteer committee's mission is to maintain a favorable business climate in Riverside County and the State. LAC discusses current issues and bills that affect business and make recommendations for Chamber members to then act upon. They assemble letter-writing campaigns, initiate discussions with legislators, and send representatives to speak on the floor during hearings in Sacramento. All funding for this advocacy program is provided by the proceeds of the prior year's Legislative Dinner/Monte Carlo fundraiser. Contact us for more info! Membership in the Legislative Action Committee is selected to represent the business makeup of our service area.
Join us every Wednesday at 10am for our weekly Business Briefing meetings (via Zoom). These briefings are held to keep the business community informed and up to date on critical legislative updates that affect their business. Registration is FREE to members.
Click here to find our next meeting and to register.
Below you will find a chart with just some of the legislation that the LAC has had a position on this year, along with the success or failure of the legislation and how much was saved per employee by each Bill. We are happy to announce that we have saved the business community over $50,000 per employee in 2021!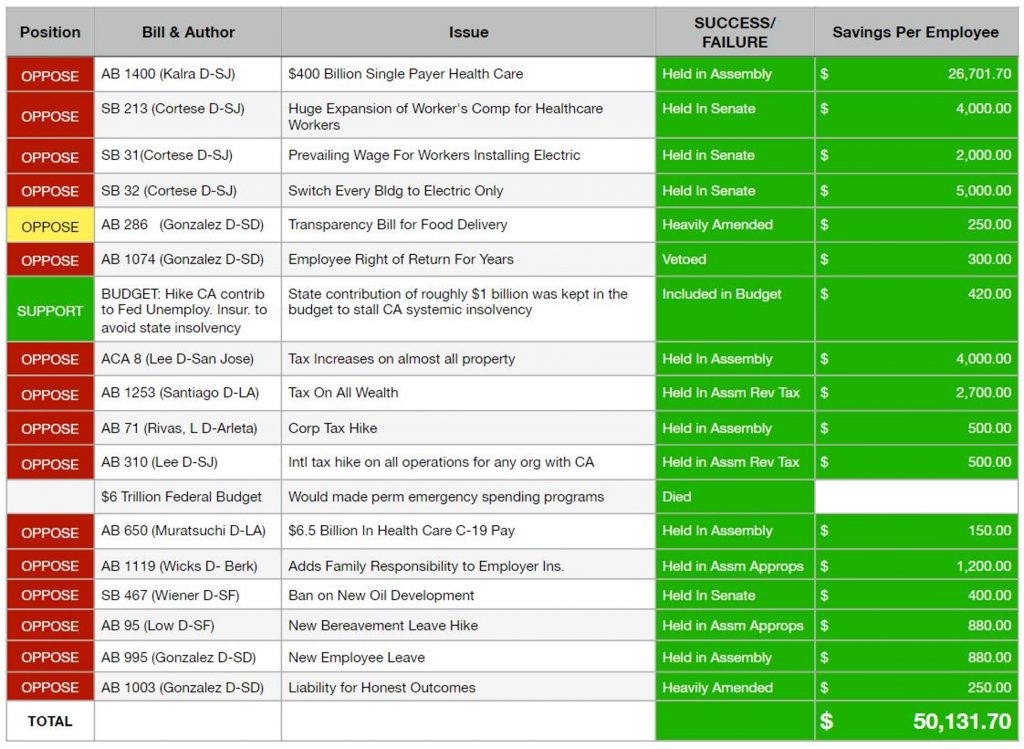 Two legislative summits are scheduled each year: once to Sacramento (typically in early May/late June) and once to Washington, D.C. (typically in early Fall). Every attendee pays a registration fee and is responsible for all travel, lodging, meals, and expenses.
Although our 2020-2021 trips were canceled, we regularly hold teleconferencing meetings with elected officials and representatives.
It's not too late to get involved! Click here to get more information.
Stay tuned for information on our 2022 advocacy trips which hope to be back in person.
2019 SUMMIT RECAPS
The 2019 Sacramento Legislative Summit was held May 21-23, 2019 (Click here for details).
The 2019 Washington DC Summit was held September 9-11, 2019 (Click here for details).
Legislative Action Committee Platform 2022