Creating & Sustaining a Strong Local Economy
Promoting the Community
For more than 50 years, the President of the United States has issued a proclamation announcing National Small Business Week, which recognizes the critical contributions of America's entrepreneurs and small business owners.
More than half of Americans either own or work for a small business, and they create about two out of every three new jobs in the U.S. each year.
As part of National Small Business Week, the U.S. Small Business Administration takes the opportunity to highlight the impact of outstanding entrepreneurs, small business owners, and others from all 50 states and U.S. territories. Every day, they're working to grow small businesses, create 21st century jobs, drive innovation, and increase America's global competitiveness. The S.B.A. designates small businesses as those employing less than 500.
This week typically takes place the first week of May, with National Veterans Small Business Week taking place the first week of November. Whether it's an official time though, the CORONA Chamber believes we can still celebrate every day the heroes of our community—those who employ our residents and make our city an ideal place to live, work, and play.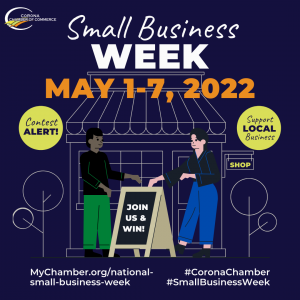 We're celebrating Small Business Week May 1-7, 2022, and we want YOU to take part! To enter the contest, complete any combination of the below ways to participate and send proof to stephanie@mychamber.org by Sunday, May 8th.
Make a purchase (take a pic of your receipt)

Leave a positive review online (screenshot or send link)

Post a photo or video (double entry) highlighting their business (forward link)
To be eligible, you must do this for 5 member businesses. Remember to tag them if you post on social media!
#coronachamber #ccsmallbusinessweek #smallbusinessweek
Some ways for you to get involved include: sharing our posts and making your own, sharing why you love a particular business (everyone loves a heartfelt story!); buying gift cards now for later use; shopping local/ordering local online; outreaching to a business owner to offer support or kind words; and maintaining your memberships and giving. This list is not exhaustive, but it is a start to helping our small business community get through this tough time.
Questions? Contact us at stephanie@mychamber.org or (951) CHAMBER. Check out the photos below, which show some examples of ways to highlight businesses while utilizing/leaving behind our signature I'm Here cards.
Here are just a few photos highlighting our amazing local businesses!